How to Use a Multimeter on a Car: A Comprehensive Guide
When it comes to troubleshooting electrical issues in your car, a multimeter is a valuable tool that can save you time and money. Whether you're a seasoned mechanic or a DIY enthusiast, using a multimeter on your car can help pinpoint problems with the battery, alternator, starter, fuses, and various electrical components.    In this blog post, we will walk you through the purpose and proper usage of a multimeter on a car, empowering you to diagnose and fix electrical problems with confidence.
Purpose of Using a Multimeter on a Car
A multimeter is a versatile device used to measure voltage and resistance in electrical circuits. When applied to a car, its primary purposes are:
Checking Battery Health:

 You can use a multimeter to assess your car battery's voltage and ensure it is holding a charge properly. A low battery voltage might indicate a faulty battery that needs replacement.
Testing Charging System: 

Multimeters help evaluate the performance of your car's alternator. You can measure the alternator's output voltage to ensure it is providing enough power to charge the battery and run the car's electrical systems.
Verifying Circuit Continuity:

 A multimeter can be used to check for continuity in various electrical circuits. This helps identify broken wires or faulty connections that could be causing issues.
Assessing Fuse Integrity:

 You can use a multimeter to test fuses in your car's fuse box. A blown fuse can cause specific electrical components to malfunction.
Usage of a Multimeter on a Car
Now, let's go through the step-by-step process of using a multimeter on your car:
Step 1 : Safety First - Before you begin, ensure the car's engine is turned off, and the ignition key is removed.    Safety goggles and gloves are also recommended.
Step 2 : Select the Right Settings - Set your multimeter to the appropriate mode for the test you want to perform. For voltage measurements, choose the DC voltage mode; for resistance, select the Ohm mode.
Step 3 : Battery Voltage Check - Connect the multimeter's red lead to the positive terminal of the car battery and the black lead to the negative terminal. Read the voltage displayed on the multimeter. A healthy battery should show around 12.6 volts.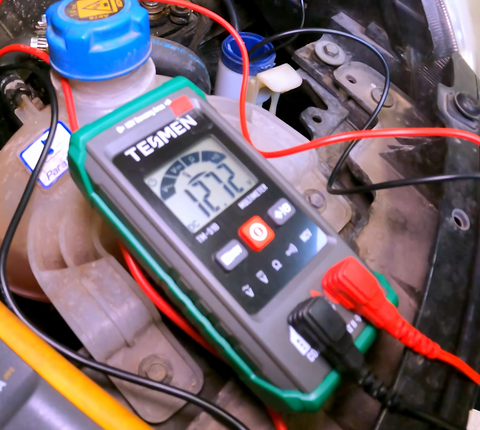 Step 4 : Alternator Output Check - Start the car's engine and connect the multimeter as before. A working alternator should produce a voltage reading of around 13.5 to 14.5 volts.
Step 5 : Continuity Testing - To check for continuity, set the multimeter to the continuity mode (the symbol with a wave and a vertical line). Touch the leads together to ensure the multimeter emits a beep, indicating continuity. Then, use it to check wires and connections for any breaks.
Step 6 : Fuse Testing - Set the multimeter to the Ohm mode and touch the leads to both ends of a fuse. A reading close to zero indicates a functioning fuse, while a high resistance reading signifies a blown fuse.
Using a multimeter on a car is an essential skill for anyone who wants to diagnose and resolve electrical issues without expensive trips to the mechanic. By following the steps outlined in this guide, you can confidently measure voltage, test the charging system, check circuit continuity, and assess fuse integrity, helping you keep your car's electrical system in top-notch condition. Remember to handle the multimeter with care and always consult your car's manual or seek professional help if you encounter complex electrical problems. Happy troubleshooting!